Prince Charles relishes the finest Foulis can offer
Ross-shire Journal, Friday August 6, 2010
by kind permission the Editor
Article by Duncan Ross
Pictures: Bobby Nelson
It was a day to remember for visitors, suppliers and staff at the Storehouse of Foulis when the heir to the throne popped in last Friday.
Prince Charles, or the Duke of Rothesay as he likes to be known in Scotland, spent over two hours at the visitor attraction run by the Clan Munro, centred round a restored 18th century grain store nestling by the shores of the firth on the A9 just north of the Cromarty Bridge.
He was there in his capacity as founder of the North Highland Initiative, which aims to bring together the farm­ing community, local busi­nesses and the tourism industry to promote the economic development of the northern coun­ties by creating and mar­keting a powerful North Highland brand.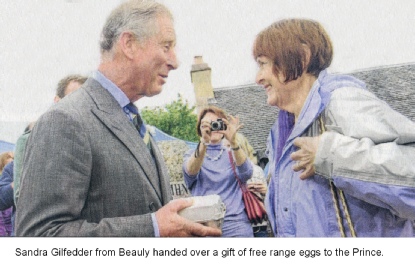 The prince met man­agement and staff of the Storehouse restaurant and farm shop, along with some of the suppliers, at a mini farmers' market set up on the lawn at the entrance especially for the occasion, as well as clan chief Hector Munro of Foulis and members of his family.
The popular restaurant and shop were doing their usual brisk trade, and as new customers arrived they were surprised to see all the police cars, then astonished to find them­selves cheek by jowl with the heir to the throne.
He made their day by chatting to several of them, setting the tone for what proved to be a particularly relaxed and informal royal visit.
Among them were Rosemarkie couple Johnny and Arlene Hossack. "We didn't know he was going to be here," said Johnny, who skippers a trawler out of Avoch. "We just came for lunch and heard Prince Charles was coming, so we decided to stay on and see him."
Added Johnny, "I do quite a lot of salmon fish­ing and I know he's keen on it too. I happened to mention that I was up on the Thurso a couple of months ago and I caught three. He asked me what the water conditions were like and whether I knew if any salmon are being caught just now."
Mrs Hossack met the prince about 30 years ago when he opened Abbeyfield House in Rosemarkie. "I was stand­ing holding my horse at the end on the road and he stopped his Range Rover and spoke to me," Arlene recalled. "I asked him today if he remem­bered that occasion, and he said he did. It was very nice to meet him again."
American visitors Julia Berry and her family from California and North Carolina also spoke to the prince. "We're staying at Foulis castle for a week." she said "My grandmother started coming here about 40 years ago. She was a Munro and was related to the clan chief.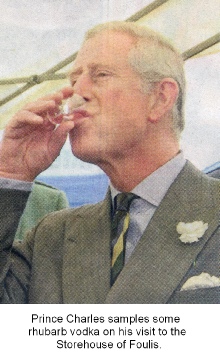 "We're here for my parents' 50th wedding anni­versary, so this has made it one to remember.
We feel very lucky we were here when he came, especially in such an inti­mate setting with local people. In somewhere like London or New York we'd be in an elbow-to-elbow crush just trying to get a glimpse of him.
"He was a lovely man and he got on well with everyone.
"He was charming and friendly and had a good sense of humour.
"He was a good lis­tener too, and interested in what people were tell­ing him."
Her daughter Emma (15) was star-struck. "I told him I loved his country," she said. "He told me that was very encouraging."
On arrival at the Storehouse the prince was greeted by the Lord Lieutenant of Ross and Cromarty, Mrs Janet Bowen. Others in the welcoming party included MSPs Jamie Stone and John Farquhar Munro, Highland Council con­vener Sandy Park, Kiltearn Community Council chairman Alpin MacDonald, chair­man of the North Highland Initiative David Whiteford, and Storehouse manager Quintin Stevens.
Accompanied by Mr Whiteford and Mr Stevens, Prince Charles took a leisurely wander round the stalls set up by local farmers and food producers, whose pro­duce is used in the res­taurant or sold in the shop.
They included Wester Ross Fisheries of Ullapool where he met Joan McDonough, Heather Skowronski and Eliza Petrow. Said Joan, "He was very interested in the sustainability of the salmon. He asked what size of fish we had been harvesting and how long they took to grow."
The firm have sites at Ardmair, Corry and Ardessie where the salmon they rear have the RSPCAs Freedom Food seal of approval.
The prince was espe­cially pleased to meet the youngest member of the team - Eliza is a pupil at his old school, Gordonstoun.
She gave him some of their maple cured hot smoked salmon to sample. His verdict - delicious!
He also spoke to Morven Dyson of Easter Ross Organics at Ardross.
"He was asking about our vegetables and the different varieties we grow," she said.
"He also said how much he doesn't like waste and likes to think of things being used. He was pleased to hear that when our hens have stopped laying they're either eaten or sold for people's gardens, rather than just killed and buried."
One of the first results of the North Highland Initiative was creation of the Mey Selections brand of quality farm produce sourced within a 100-mile radius of the Castle of Mey, the Caithness home of the late Queen Mother, and based on the suc­cess of Duchy Originals, a similar venture initiated by the prince as Duke of Cornwall.
At the Mey Selections stand on Friday the prince spoke to Wick butcher's wife Geraldine Harrold. "Because Mey Selections is his brand he's very interested in it," she said. "He wanted to know how it's going - and it's going very well. We're not far from the Castle of Mey and we do supply the castle."
She said the prince had sampled a succulent piece of their sirloin steak. "I told him 'It's better than your Dutchy Originals!' He just laughed."
The prince went on to take a look at the Storehouse farm shop where he met the buyer, Michelle Stevens, and staff members Sheila Sharkey and Sian Anderson.
He was also shown round the Clan Munro exhibition by the chief of the clan, Hector Munro of Foulis.
In the marquee attached to the restau­rant Prince Charles spent some time mingling and chatting to represent­atives from the various facets of his North Highland Initiative - North Highland Tourism. North Highland Products and North Highland Connections -along with funders and associated bodies.
As he did so they entertained by Sarah Munro, wife of the clan chief, and three young members of the Kiltern Fiddlers - Emma Donald, Flora Pennington and Innes White.
Before he left, the royal visitor made a point of meeting and speaking to all the restaurant staff.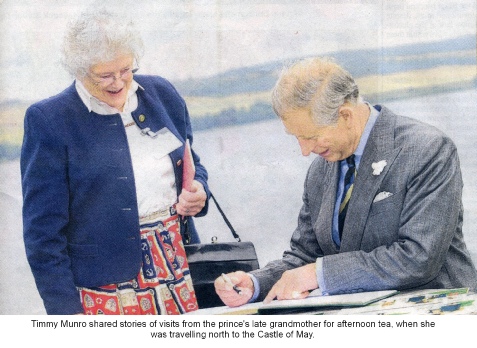 At the invitation of 'Timmy' Munro mother of the present chief and much loved matriarch of the clan, the prince also signed the visitors' book which his grandmother, the late Queen Mother, had signed in 1998 when she last visited the Storehouse.
To his evident delight, Timmy also showed the prince some photo­graphs of the Queen's Mum's frequent vis­its to her home, Foulis Castle, over almost half a century.
Her son Hector, the present chief, explained the background to what became a firm and enduring friendship between his parents and the Queen Mother.
He told the Journal, "My father and his brother were captured at St Valery in June 1940 and among the other prisoners was John Elphinstone of the Black Watch, who later became Lord Elphinstone. He was a nephew of the Queen Mother. My father became great friends with him dur­ing the four years and 11 months they spent together in captivity.
'After the war they remained great friends. The Queen Mother bought the Castle of Mey in 1952, shortly after she was widowed, and when she started coming up to visit the castle she asked John Elphinstone's sis­ter if he knew anywhere between Birkhall and Mey where they could stop for a picnic. This lady said 'Pat Munro lives about halfway, and I'm sure he wouldn't mind you having a picnic in one of his fields'.
"My father duly received a phone call from her equerry, but he told him there was abso­lutely no way the Queen Mother could have a pic­nic in one of his fields - she must come and have lunch with them. And for the next 48 years, until she was in her 100th year, she came to Foulis for lunch every single year, usually on her way back to Birkhall from the Castle of Mey.
"My parents were lucky enough to know her in a private capac­ity for all that time, and became very friendly with her. She would come with the corgies, an equerry, a lady-in-wait­ing and a detective and it was always a very infor­mal and happy occasion.
"My parents also had the pleasure of stay­ing at both Birkhall and Clarence House over the years."