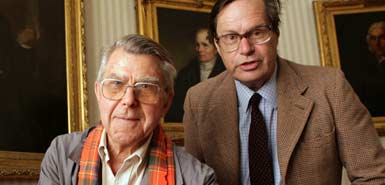 More than 300 years ago a Scottish soldier who had fought valiantly for Charles I was put on a wanted list by Oliver Cromwell –and fled abroad.
Ulysses Monroe was the first of a generation of exiled rebels who served the Stuart kings and made their home at the French court of James VII of Scotland. They founded a remarkable dynasty of Monroes, who have, over the centuries, adopted France as their home, but have never forgotten their ancient Scottish links.
This weekend more than 100 of them will travel north to the clan seat, Foulis Castle, in the Highlands, to celebrate those links, and to be welcomed by their hereditary chief, 57-year-old Hector Munro, at a ceremony that takes place at the castle every ten years. The French are the largest – and, to judge from their excitement during a tour of Edinburgh yesterday – the most vociferous of any of the Monroe contingents, outnumbering even the Americans.
"There will be more of us this year than ever before," said Donald Monroe, 75, from Paris, who, like most of the group, was sporting a Monroe tartan scarf. "There are some families who are here with three generations, and we are finding that the young have become even more enthusiastic than their parents about tracing their roots, and discovering more about their past."
Mr Monroe, a retired personnel manager, said he thought the ties to Scotland had survived over the years because of a tradition of service to Scotland's exiled royalty, but also a shared antipathy to the English. "We have always felt sympathetic towards anyone who was antagonistic towards England," he said, "so we all feel very warmly about the Scots."
Before setting out for Foulis Castle, they were taken to the Royal College of Surgeons in Edinburgh by their Scottish host, Donald Monro (the spelling of the family name varies, but the genes are the same), who showed them portraits of three generations of their Scottish ancestors, all called Alexander Monro, all of whom held the College's chair of anatomy, and who dominated the Scottish medical scene for 126 years. One of them, Alexander Monro the second, is hailed as the father of modern anatomy, and gave his name to part of the brain. His son is remembered as the surgeon who performed a public dissection of William Burke, the body-stealer, after he had been hanged in 1829.
Though few of the visitors, who come from all over France, could speak English, all of them did their best to translate the captions on the pictures, and the descriptions of 18th century operations. And most of them claimed to see a pronounced family characteristic. "C'est le menton," said Hedwige de Drouas, whose husband, Alain, is a Monroe. "Of course, it is the chin. It is unmistakable. It has survived in the Monroes for 200 years."
Mr Monro, who will accompany the group on their northern pilgrimage, said that the French attachment to the clan and its traditions was extraordinary. "On Sunday, when they are presented to their chief I know that many of them will sink to their knees, and some of them will be in tears. I expect I will be too. The ties that bind them seem to grow stronger with the years. History has a lot to answer for."
Tartan pedigree
Mottos Dread God, and Nil Sine Labore (Nothing without work)
Crest a golden eagle's head, with a beehive at the base
History Originated in Ireland, and fought Vikings in the 11th century, winning land in Ross-shire and the family seat of Foulis Castle as a reward. The clan helped Alexander III of Scotland to defeat King Haakon of Norway at the Battle of Largs in 1263