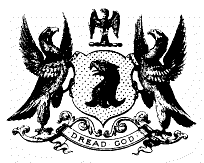 Personal Arms of Munro of Foulis
The Chiefs of the Clan Munro
The Younger of Foulis (Eldest son of present Chief)
son of Eva Marion, took the name of his maternal grandfather to become clan chief
eldest daughter of 11th baronet married Col C. H. Gascoigne
11th baronet, Seaforth highlanders ADC to Edward VII & George V - end of male line
10th baronet, D.L. & J.P. for Ross-shire
8th baronet - end of direct line
7th baronet, rebuilt Foulis Castle after a fire destroyed it - MP for Ross-shire 1746 - 47
6th baronet, the Black Watch - killed at Falkirk, interred in the Churchyard of Falkirk
5th baronet, the blind baron
4th baronet, a zealous promoter of Presbyterian
3rd baronet, son of Col John Munro of Obsdale
2nd baronet, died age 17 - ending direct male line
made 1st baronet by Charles I - died in Hamburg, Germany
the black baron served in the 30 years war - died at Ulm, Germany
died 8 months after his father
added to the estate of Foulis, a loyal protector of Queen Mary- first Protestant and 1st to be buried at Kiltearn Church
loyal supporter of Scotland against invasion of Protector, Duke of Somerset - killed at Pinkie
extensive lands confirmed to him by James V at Stirling 1541
killed in a raid assisting Chief of the Mackays
in minority was under his uncle John who led the Clan at Clachnaharry 1454
under the Great Seal of James I, dated at St. Andrews 1426 - lands of great extent confirmed to him, killed at Bealach-nam-Brog
joined the Lord of the Isles in contest with Duke of Albany 1411
a charter confirmed by David II of Scotland 1364
The following ten chiefs cannot be authenticated by contemporary evidence and therefore there is some doubt as to their existence but their names have been handed down by tradition and thus merit a place in the list.
succeeded his grandfather - continued his support of Bruce - killed at Halidon Hill
only son of Robert - predeceased his father - killed at Bannockburn 1314
joined the party of Bruce in his claim to the throne of Scotland
had all his Ross-shire lands confirmed to him by charter from Alexander II before 1249
married daughter of Earl of Sutherland
said to have built the old Tower of Foulis 1154. Assisted Wm the Lion in repressing rebellion
loyal subject of David I and Malcolm IV - Interred in Church of Chanonry of Ross - burial place of Munros for 400 years
first member of the line "Baron of Foulis"
said to have assisted Malcolm III in contention with Macbeth for Crown of Scotland
founder of the ancient House of Munro