Historic boats are remembered with East Ross plaque


By JOHN MACLEOD
THE Zulu herring boats which were part of the Seaboard fishing fleet before World War I have been commemorated by a plaque on the shores of the Cromarty Firth.


The boats were left moored at Foulis Point when the Seaboard fishermen an­swered the call to serve their country.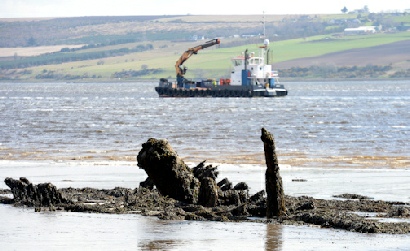 Unfortunately, very few of them came back and the boats were left to rot. Only three of an estimated dozen or so can be seen to this day -their outlines being visible at low tide about 100 yards from the shore.
The plaque telling the his­tory of the boats was unveiled at the Storehouse of Foulis, near Evanton earlier this week.
Kiltearn community councillor, Anne Macdonald, who helped organise the com­memorative plaque, said: "It started when we held an exhi­bition in the Diamond Jubilee Hall to commemorate WWI.
The topic of the Zulu boats came up. They were those boats used by the fishermen at the time. We decided it was worth looking into and we did some research and got bits and pieces together."
She added: "A lot of peo­ple had not even heard of the Zulu boats before. There isn't much left of them now, although you can still see what's left of a few of them at low tide - all the youngsters used to compare the wrecks to crocodiles because of their shapes."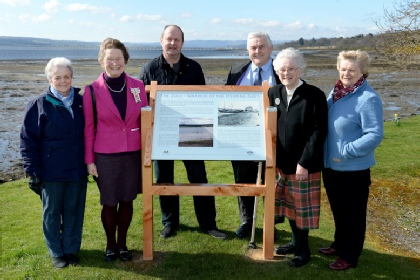 "Unfortunately, the men who left the boats there to serve in the war never came back. They were just left there to rot."
Lord Lieutenant Janet Bowen also attended the unveiling. She said: "I'm de­lighted this has been com­memorated, particularly at a time when we are remem­bering all those who lost their lives in the First World War.
The board is strategically placed so as to see the wrecks at low tide.
Local man Rob Stokes built and installed the board, while Mrs Macdonald's daughter, Lorraine Macdonald Griffin, who lives in Ipswich, de­signed it.
Pictures by Gary Anthony
The unveiling of the new Zulu herring information board, with (from left): Anne MacDonald, Lord Lieutenant Janet Bowen, Rob Stokes, Euan Campbell, Councillor Mike Finlayson, Mrs Timmy Munro of Foulis and Sheena Davidson.