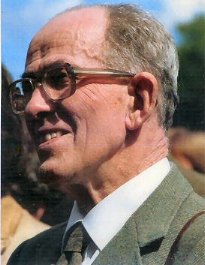 BILLY, who died on December 15, 2003 in his 90th year, was born on February 3, 1914 in Kiltearn and had long family connections with Ross-shire. His paternal grandfather, Rev A R Munro, had for many years been Free Church of Scotland minister in Alness. His uncle Robert Munro - who was successively Lord Advocate, Secretary for Scotland, and Lord Justice-Clerk - on being raised to the peerage in 1934 chose to recognise his native village by becoming the first and only Lord Alness. At the time of his birth, Billy's father had the farm of Newton on Novar Estate where his maternal grandfather John J R Meiklejohn was the factor.
The family later moved to the farm of Hillend just south of Edinburgh and Billy continued his education at Edinburgh Academy. In 1933 he joined the editorial staff of the Scotsman where he remained until 1959 during which time he also contributed a number of articles of historical note to the Ross-shire Journal. His career was interrupted by war service with the Seaforth Highlanders and Inter-Services Public Relations (India) (1940-46).
In 1959 Billy and his wife Jean Dunlop, whom he had married the previous year, returned north to Inverness on his appointment as editor-in-chief of tie Highland News Group, a job which took him all over the Highlands. In 1963 the Munros moved back to Edinburgh where they set up home in Mansionhouse Road and Billy rejoined the Scotsman where he remained until he retired in 1969. He was chairman of the Edinburgh Press Club 1955-57 and president from 1969-71.
Although he did not attend the inaugural meeting of the Clan Munro (Association) in 1937, his journalistic skills were quickly recognised and he was appointed hon. editor in 1939, a position he held until 1971, producing the first 12 issues of the Clan Munro Magazine and setting a standard many clan journals have tried hard to emulate. He became a council member and was made vice-president of the association in 1963 and continued to assist, particularly with the clan newsletter and magazine, for the rest of his life. Within the Clan Munro itself his knowledge of history and genealogy 'became' legendary and he and his wife Jean contributed immensely to the success of the association both at home and abroad.
Billy was a Fellow of the Society of Antiquaries of Scotland, a member of the Scottish History Society, Scottish Genealogy Society and a trustee of the National Museum of Antiquities from 1982-85. His unassuming demeanour hid a diligent mind dedicated to conveying the facts accurately backed by meticulous research. He was the author of a number of historical publications: Lachlan MacQuarrie of Ulva, 1944; Donald Monro's Western Isles of Scotland and Genealogies of the Clans 1549 (editor), 1961; Tain Through the Centuries (co-authored with his wife Jean), 1966 (commissioned for the Burgh's 900th Anniversary); The Glorious Privilege; The History of the Scotsman (co-author), 1967; Kinsmen & Clansmen, 1971; The Northern Lighthouses, 1976; Highland Clans and Tartans, 1977; Edinburgh and the Borders, 1977; The Munro Tree 1734, 1978; Scottish Lighthouses, 1979; Taming the Rough Bounds, Knoydart 1745-1784, 1984; Acts of the Lords of the Isles 1336-1493 (co-author with Jean), 1986; Clan MacQuarrie: A History, 1996.
Billy modestly listed his recreations as historical research and writing, walking and visiting islands but his quiet manner and droll sense of humour hid the wealth of work he undertook, voluntarily on behalf of others, not, only for individuals, Clan Munro and his many contacts within his chosen fields of expertise, but also a life long devotion to his faith. He was for many years successively an elder of the Church of Scotland, Fairmilehead, the East Church in Inverness and St Catherine's Argyle, Edinburgh where he was both an elder and then session clerk from 1974-84.
His great knowledge of Highland history will be greatly missed by his many friends and acquaintances worldwide. However, it was his wish that the extensive archives gathered during his lifetime would be made available to researchers, and they will in due course be accessible at Storehouse of Foulis, Evanton. Billy's legacy of accuracy and strict adherence to the facts will serve as a suitable lasting memorial.