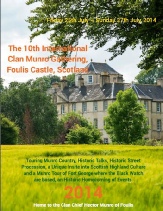 This is our first venture into using the Internet to circulate a publication to either be download or viewed on-line, with modern technology members can enjoy a quality publication via their computer screens. The excellent quality Souvenir Brochure of the 2014 CM(A) Gathering can also be purchased.
Follow the following links.
To purchase the English and French Souvenir Brochure.
www.blurb.co.uk/search/site_search?search=Clan+Munro
To view online the Souvenir Brochure.
issuu.com/clanmunro
To download a PDF file you will have to first Create an Account. On the page select Share then Download and Create Account.
Once you have created your account you just need to select Share then Download and Log In.
It is our intention to make all CM(A) magazines available on the internet, members would be given a password so that it is exclusive to them. In the meantime enjoy this excellent Souvenir Brochure edited by Ohma Munro using photographs provided by many of the people who attended along with informative text from the various events which made up the weekend.