Listed Monument Reclaimed For Public Access
A listed monument in Inverness that marks a famous 15th century battle has been refurbished and made accessible to the public. Damaged by vandals, storms and overgrown with foliage over the years, the monument stands on the hill overlooking Clachnaharry and the Moray Firth.
Trees and plant life have been cut away and graffiti cleaned off. The monument, erected in 1821, can now be accessed by walkers and it gives excellent views of the surrounding area.
Highland Councillor Pauline Munro (Inverness West) and local historian Alastair Owens have been campaigning to get the monument cleaned and repaired..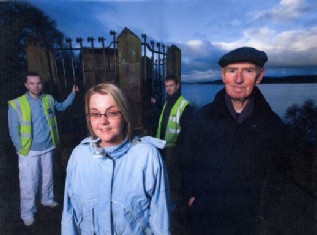 Mr Owens said: "The monument marks the Battle of Clachnaharry which look place in 1454 between the Clans Munro and Mackintosh over unpaid tolls of passage. My father saw the top of it blown off and destroyed during galas in 1951 and ultimately I would like to see it properly rebuilt. This is excellent news that it has been cleaned, restored and made more open to the public.It is a significant slice of the city's history so this is real progress in getting the monument back to its former glory."
Councillor Munro said: "It's such a fantastic site and will make walking in the area much more interesting and safer to do as the access is so much better. The work has been done by the construction company Rok as part of their community programme. They have done a valuable job and restored an interesting attraction to the people of Inverness."
One of the Rok apprentices who worked on the project was Steven Campbell (20) who said; "It took two of us working for over a week to clean the monument and make it ready for the public. The graffiti was hard to remove with none of our cleaning materials working very well. In the end we were able to do it using an old bricklayers' trade secret which uses a mixture of moss, mud and teabags!"
The Clachnahany Monument was erected by Major Hugh Robert Duff and now that it is a listed monument, Historic Scotland and other funding agencies may be interested in its full restoration.
PICTURE by John Paul.