Aberdeenshire man bags all 282 Munro peaks at climax of epic challenge
by Ana Da Silva P&J August 26, 2019
Photograph Hugh W Munro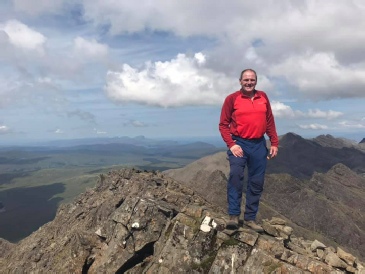 An Aberdeenshire man has successfully completed a gruelling trek across 282 Scottish mountains.
Hugh Munro, 59, from Westhill, managed to scale the summit of the peaks after his more famous namesake failed in his effort a century earlier.
Sir Hugh Munro, who inspired the challenge known as "Munro bagging", died in 1919, at the age of 63.
Mr Munro celebrated at the top of Siloch, north of Kinlochwewe in Wester Ross, with a bottle of champagne on Saturday.
The climactic ascent concluded his challenge of trekking up all 282 peaks of 3,000ft or higher.
His predecessor, Sir Hugh Munro, was tasked with compiling the country's highest mountains and died 100 years ago from pneumonia with three summits left to climb.
Mr Munro, a retired civil servant, is the only person with that name to be added to the record of nearly 6,600 ambitious climbers by the Scottish Mountaineering Club.
He told The Mail: "It's a great feeling. But I've got to admit, as I approached the summit, it was with mixed emotions because this journey to do all the Munros has taken up a lot of my life.
"The last half mile was pretty slow because I kept stopping so much to admire the view and take it all in.
"It was an amazing panorama and one I will never forget."
The married father-of-two travelled with his son Iain, daughter-in-law Gemma and Munro Society president Anne Butler – as well as 15 other hillwalkers.
He said: "I wanted my last to be an iconic, as well as a stand-alone, mountain.
"I also wanted it to be somewhere near a nice hotel, where we could celebrate properly afterwards.
"We picked the Kinlochewe Hotel where interestingly there's a photograph of Sir Hugh Munro and some contemporaries."
He climbed his first peak at 14 and still remembers the two-day journey through Lairig Ghru.
Mr Munro added: "I can still remember everything about that – the smells, the sounds, the sights.
"It was in the spring and the snow was still hanging in the corries, reaching Rothiemurchus, and the smell of Scots pine.
"Later on that year, I climbed Lochnagar – and from then on, I was hooked.
"It has been fantastic, a bit of an obsession, really."