Elizabeth Maclean Munro celebrated her 100th birthday on 9th February
Elizabeth Maclean Munro, née Campbell, was born on 9th February 1921, the second of three children. She was brought up in Perth where her mother, Catherine Duff McLeish, was a journalist with the Perthshire Advertiser, and her father, David Herdman Campbell, was a businessman. The family were originally from Dunkeld where they were farmers and businessmen.
Elizabeth attended Perth Academy and at the start of the war volunteered as a driver. In 1942 she married Robin Hampshire, an RAF volunteer reserve pilot, whose family lived in Brazil, and he had come to Britain in 1940 to sign up. They met when the RAF bus he was on caused the car Elizabeth was driving to swerve into the ditch near RAF Scone; Robin helped her get her car out of the ditch and asked for a date. He proposed at a dance in the Officers Mess at RAF Drem, before racing back to Scone where he was duty officer later that morning.
They moved to East Anglia and she remembers having to abandon the vehicle she was driving and getting covered with the pigswill it was carrying as a German aircraft was strafing the road - she says she smelt bad for weeks!
Their son, David, was born in January 1944 but, tragically, her husband's Pathfinder Mosquito was shot down over Belgium only 5 months later in June 1944, and he was killed. She had to wait until November before being officially advised of his death and the location of his grave in Wevelgem.
In late 1945 she and David travelled by ship to Brazil to meet and stay with Robin's family in Santos. She stayed there for a year before returning to Scotland in 1946. There she met Roy Munro of the Edinburgh family firm of Munrospun, knitwear and tweed manufacturers, and part of Munro & Co. They were married in 1948 at St Giles in Edinburgh. During WW2 Roy had served as an officer in the Royal Artillery in Palestine & Lebanon (as a French-speaking interpreter attached to the Australians), at Tobruk, Libya (as an anti-aircraft gunner) and in Italy (with the Raiding Support Regiment, a specialized unit of the Special Forces). They lived at Lamancha in Peeblesshire for much of their life together, finally coming to Dirleton in 1985. Roy had been Managing Director of Munrospun and a High Constable at Holyrood but died in 2002 after 53 years of marriage. She and Roy had two sons, Neil who is a land resources scientist based in Ethiopia, and Dougal who works in the USA for Holland & Sherry of Peebles. Her eldest son David worked for many years with Guinness and subsequently Diageo Africa. She now has eight grandchildren, nine great-grandchildren, and two great-great-grandchildren - she is the matriarch of a five- generation family!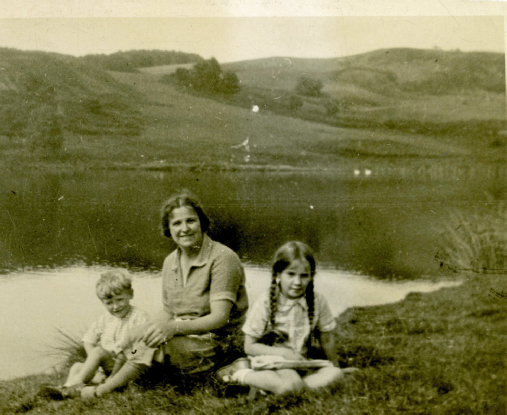 In the mid-1960s Elizabeth established her own knitwear company, Lothian Loom, and had her designs manufactured at various workshops in Scotland. Her clothes were featured in many of the top stores in the world, Japan, Hong Kong and USA as well as in UK. After moving to Dirleton, Elizabeth joined with the late Mary Stormonth-Darling to establish the Dirleton Gallery and she continued to run it until she was nearly ninety. She has continued to live in the village and, until lockdown, still maintained an active social life with a wide range of friends and neighbours.
Elizabeth has had some remarkable and inexplicable experiences of second sight and the paranormal. She once clearly saw and described a house on a headland in Argyll – it had been burnt down a hundred years before and there was nothing there. She had a vision of her husband climbing out onto the wing of an aircraft out of Scone to discover later that he had actually done so as the trainee in the front seat had frozen with fear on the controls. Regrettably, despite much trying, she was never able to visualise a winning lottery ticket
EMM, ca 1929 near Perth, with her mother and younger brother Sandy. Pigtails were her trademark then.