Sir Robert Munro of Foulis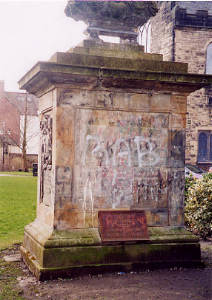 In the churchyard of Falkirk Old Parish Church lie the remains of a great man; Colonel Sir Robert Munro of Foulis, Chief of the Clan Munro, Hero of the Battle of Fontenoy, Member of Parliament, and first Lt. Colonel of the Black Watch regiment. He was laid there after his death at the second Battle of Falkirk in 1746 in a military ceremony attended by his adversary Bonnie Prince Charlie. Unfortunately, his tomb has been subject to vandalism, and our last Chief, Captain Patrick Munro of Foulis saw to it's cleaning, but as this recent photograph shows, some things don't change.
Rather than simply provide a clean slate for future graffiti artists, the Clan Munro Association has very recently presented extensive proposals to Falkirk Council showing the development of the churchyard into a heritage site in the hope that proper security and prominence will discourage further desecration. The scheme includes new parking, landscaping, security arrangements, and the treatment of the tombs to give them proper setting that would incorporate lighting and descriptive texts.
The Association has also presented proposals for raising the town's historical profile, including a stone 'Time Wheel', and large display panels showing 2000 years of the town's amazing history from Roman times, through the Mediæval period, the Jacobites, and the Industrial Revolution.
These proposals may be well timed; this month sees the opening of 'The Falkirk Wheel', a futuristic, multi-million pound canal-boat-lift linking the Forth & Clyde and Union canals. The Council is looking for a tourist attraction to bring visitors from there into the town, and are presently considering the Clan Munro Association's proposals.
Sir Robert Munro shares the churchyard with other distinguished men, whose tombs it is proposed will also be developed in the same way:
Dr. Duncan Munro, killed while assisting his wounded brother Sir Robert, and interred with him.
Sir John de Graeme, Scottish patriot, lieutenant to William Wallace, killed at the first Battle of Falkirk in 1298. His inscription reads 'ane of the chiefs wha rescewet Scotland thris'. Sir John is the ancestor of the Dukes of Montrose.
Sir John Stewart; also killed at the first battle in 1298. His 'Men of Bute' come over to Falkirk every year to commemorate him.
Colonel Aenas MacDonald 'Young Glengarry' who was accidentally shot two days after the second battle in Falkirk High Street. He was accorded the great honour of being interred in the de Graeme tomb.
Captain-Lieutenant William Edmondstone of Cambuswallace (of Blakeney's Foot), another British casualty of 1746 .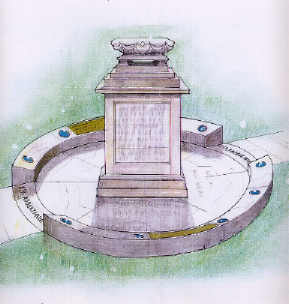 The proposed surround to Sir Robert Munro's tomb, incorporating lighting and descriptive metal panels.