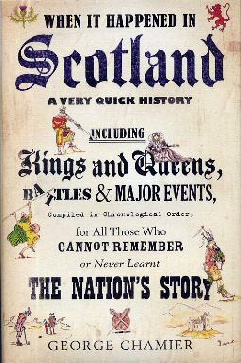 The Chief's cousin has published a book about when it happened in Scotland, this is a quick history of facts that you either forgot or never learned. The book has been dedicated '... to the members, all over the world, of the Clan Munro'.
WHEN IT HAPPENED IN
Scotland
Published by Constable
should be available from most good bokshops in the UK but only through Amazon or similar for anyone from overseas.
george chamier is Scottish on his mother's side. He was formerly the head of History at Bradfield College. He now lives in London and works as a writer and editor, one of his most recent works being a history of the oldest public lending library in Scotland, at Innerpeffray. He is the author of the highly acclaimed: When It Happened in Britain.
WHEN IT HAPPENED IN
Scotland